L'ATELIER D'ETE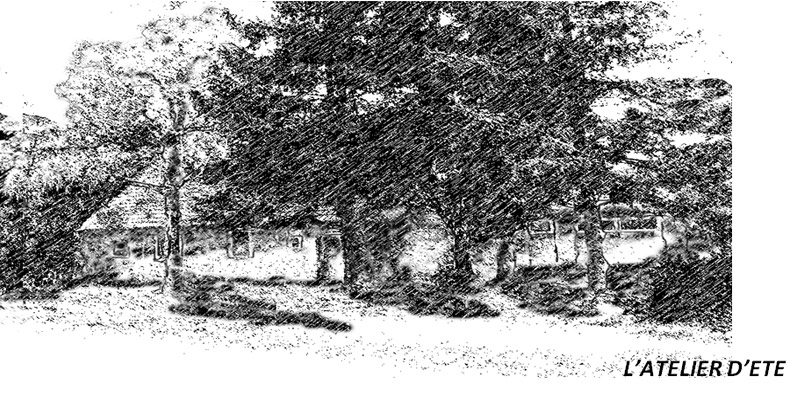 The Art Studio "L'ATELIER D'ETE"
"L'ATELIER D'ETE" is the place where both my paintings and my sculptures (created from rusty iron, tools, old bicycles and scrap parts of machinery which primarily served movement and drive mechanisms) originate.
On three weekends a year the artistic workshop "L'ATELIER D'ETE" changes into a well frequented countryside gallery. In addition to creations of my own other artists' pieces of art are then exhibited and offered for sale. In contrast to the customary running of galleries "L'ATELIER D'ETE" is free of charge for participating artists, apart from their share of the accruing exhibition expenses.
Experience over the years has shown that in the pleasant ambiance of gallery and garden, not only viewing the exhibited pieces of art takes centre stage but also the lively interaction of visitors and artists alike. Both the co-exhibiting artists and I myself as the event host appreciate these encounters very much. Besides the acknowledgement of our creative work these restorative moments are refreshing, also for us, in our fast moving times.
Event details 2018
Ausstellungen im L'ATELIER D'ETE.


Veranstaltungsprogramm 2018 (PDF)




20. Mai bis 04. Juni


Michael A. Lachmund

zeigt eine Auswahl seiner Bilder und Metallskulpturen aus den Jahren 1982 bis 2018.




Vernissage am Sonntag, 20. Mai 11 bis 17 Uhr | Begrüßung um 14 Uhr

• Musikalische Umrahmung: Kathrin Redlich, klassische Gitarre
• Kaffee- und Kuchenbuffet auf Spendenbasis: Heimatverein Memoria Priort e.V.

Die Veranstaltung findet im Atelier und unter alten Bäumen im Skulpturengarten statt.


Das Atelier ist barrierefrei.

Ausstellungsbesuche nach telefonischer Vereinbarung Mobil: 0172/9077398






zur Website der Gruppe MalArt-Berlin »
zur Website der Priorter Nachrichten »



Address
Location how to get there
Arrival by train
e.g. from station Bhf. Zoo: take RE2 heading for Rathenow, enlight at
Wustermark, on the same platform change into waiting RB21 heading
for Potsdam, 1 stop to Priort, time of travel about 40 mins.

e.g. by S-Bahn 'S1' from station Bhf.Schöneberg to Griebnitzsee,
change into RB21 heading forWustermark, 7 stops to Priort, time
of travel about 45 mins.

then at your destination Priort approx. 400 meters walk along
Priorter Chaussee to Art Studio, Obstgarten 7


© l'atelier d'été
legal notice